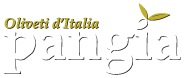 THE HARVEST
The results of our efforts is an extra virgin olive oil of exceptional quality, with a thousand flavors and nuances…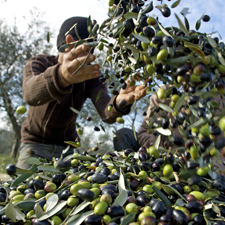 The olive is a sacred fruit and the harvest is more of a rite than an occupation.
Harvesting at the right time of ripening guarantees high quality and low acidity.
Pangia Family, oil since 1870 - Rotello (CB) Italy.
QUALITY AND TYPICALITY.
The quality of an evergreen tree.
The olives are harvested by hand directly from the tree, without shaking it, by teams of specialized harvesters selected among the laborers of the village. The harvest is completed when we know based on our experience that the olives have reached the desired ripeness. Below, nets surround each tree, so that no olive is lost. The olives are pressed within 12 hours, on the same day that they are harvested. The harvest directly from the tree and the promptness of the pressing are some of the most important factors that determine the quality of the oil.