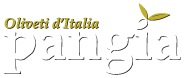 THE OLIVE GROVE AND THE OLIVES
Ancient trees grown with respect for nature and tradition.
The olive "Gentile", typical of the area, and the altitude of the hills give our olive oil the extraordinary characteristics that make it unique.

Pangia Family, oil since 1870 - Rotello (CB) Italy.
ESTATES HANDED DOWN BY GRANDPARENTS.
A way of cultivating that has never changed.
The main varieties of olives in Rotello: the "Gentile of Larino", original from this area, and the "Rosciola of Rotello" are grown on the Pangia farm.
The plants are mixed by age; there are centuries-old trees and twenty-year old trees. The cultivation takes place with respect to the traditions and rhythms of nature and the trees are pruned by seasoned masters of the village. The treatments against diseases are limited to only the essentials and are carried out in a natural way. The trees are watered by the rain and moved by the wind coming from the nearby sea. The type of land, hilly but still close to the sea, produces an olive oil with a unique fragrance, typical of this area. By choosing not to follow industrial productive standards and to concentrate efforts on a limited production, Pangia has established a level of high quality olive oil over time.
Gentile of Larino.
Typical of the Molise region, this olive tree produces a medium-sized fruit, egg-shaped and slightly asymmetrical, which is wine red at harvest time.
Its oil, green with yellow highlights, is moderately fruity and herbaceous, with almond and artichoke, and a lightly bitter and spicy, yet harmonious flavour.
Rosciola of Rotello.
Typical of the Rotello area, this olive tree produces small to medium sized fruit of light yellow and purplish-red colour, which matures rather early in the season.
Its oil is harmoniously fruity, with scent of apple and almond, light sweet flavour and a light yellow colour.