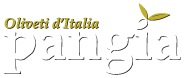 Company Data / PRIVACY
The results of our efforts is an extra virgin olive oil of exceptional quality, with a thousand flavors and nuances…
Legal headquartes:
Amalia Pangia Ditta Individuale
Viale della Repubblica, n. 6/A – 33080 Fiume Veneto (Pordenone) Italy info@oliopangia.it – oliopangia.com
V.A.T. Number: 01491280937
Production and packaging address:
86040 Rotello (Campobasso) Italy
PRIVACY
By asking for information to "Pangia Oil" I accept the informative note on the treatment of personal data. The holder of the website processing is Mrs. Amalia Pangia. The data processing will be carried out both electronically and on paper in accordance with art. 7 and 13 of Italian Legislative Decree 196/03. You may exercise your rights under art. 7 Privacy Code and, in particular, you may request to the holder to confirm the existence of your personal data, to communicate them to you, to explain the purposes of the processing, to delete them, updating them, or blocking them, as well as to oppose for legitimate reasons (and in case of commercial purposes) to the processing by writing to: Amalia Pangia (sole trader), Viale della Repubblica 6/a, 33080 Fiume Veneto (PN) Italy.