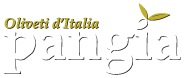 Molise PDO Italy
Molise PDO extra virgin olive oil comes from indigenous varieties of olives, mainly our Gentile of Larino, the black olive of Colletorto and Leccino, but also from other local varieties, such as the Rosciola of Rotello. PDO Guaranteed by the Ministry of Agriculture, Food and Forestry pursuant to art. 10 of Reg. (EC) No 510/2006 control: ARSIAM - Larino.
Extravergine di Oliva
Pangia family's oil
Since 1870 the Pangia family from Rotello (Campobasso) produces extra virgin olive oil, which is now Molise PDO Italy. The total production in Limited Edition and of high quality is offered to international buyers, in bottles for qualified buyers (catering and food service) and in cans for private buyers.

The Molise oil, already highly appreciated in Roman times, is now on international tables.
Shipping packs

Our oil can be shipped in 5 liters cans.
info order